Connect with Las Vegas Premier Luxury High Rise Condo Real Estate Agents
The Award-Winning Stark Team
*** Outstanding Results-Expert Market Knowledge-Always Ahead of the Curve ***
# 1 High Rise Condo Sales Team for The Cosmopolitan Resort on the Strip
# 1 in High Rise Condo Sales Team for Sky Las Vegas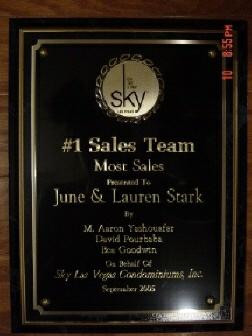 # 1 in Condos Sales for Loft 5
VIP Real Estate Agents for high sales in Trump Las Vegas Condo Hotels-June is Featured on the Trump Towers Las Vegas Promotional DVD & Lauren is featured on HGTV showcasing the Trump International Hotel & Towers Models
MGM CityCenter VIP Preferred Agents
Summerlin Circle of Excellence Award Winners-1998 (#3 top HOME new sales agents)
Realtor.Com Marketing Award Winners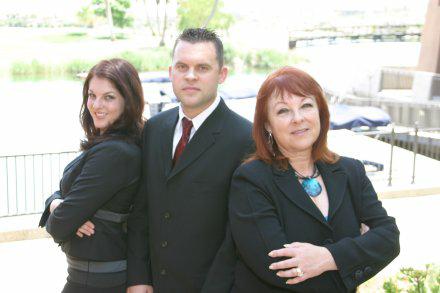 June Stark-Broker/Salesperson Cell: 702-376-5220
June Stark is a Graduate of CCNY with a B.S. in Mathematics and has worked as a Programmer/Analyst for Major Corporations in NYC; Port of NY Authority, Lever Brothers, and as an Associate Officer of the United Nations in the Accounts Division.
She relocated to Las Vegas from NYC in 1972 to accept a position as a systems analyst/programmer for Summa Corporation (now Howard Hughes Corporation) and was responsible for all the financial reporting & forecasting for Howard Hughes' holdings in Nevada & California
June represents some of the most unique & spectacular real estate in Las Vegas & Henderson Nevada A seasoned industry veteran and top broker for more than 19 years, both her clientele and her peers know her as an avid real estate connoisseur with more inside knowledge of the industry, the market & the history of Las Vegas' development than anyone else in the business. Little wonder she enjoys the respect of Las Vegas' major developers, to say nothing of her fiercely loyal clientele.
With her strong developer relationships and expert insight into the Las Vegas High Rise condo market, June serves the most discriminating buyers & sellers with the utmost care, courtesy & confidentiality. She strives to assess each client's specific needs and zeroes in on the right area of Vegas or Henderson, the right development to fulfill those needs & investment objectives. Known for her integrity and candor, June will not encourage her clients to proceed with a transaction until she is convinced that the fit is right.
Lauren Stark -Broker/Salesperson Cell: 702-236-8364
Award-Winning High Rise VIP Agent, Native Las Vegan, Marketing Expert, Professional Speaker to Investment Groups & Clubs.
Lauren Stark is a native Las Vegan, a graduate of UNLV with a B.S. in Business and a Major in Marketing. She has been a licensed real estate agent for over 18 years. Lauren & her mother, June, are partners and their team has ranked #1 at their former Re/Max office & #11 in the entire Southwest region. They were also the #3 team in all of Summerlin in 1998 for selling new homes.
Lauren is widely recognized as a High Rise specialist & has been quoted in interviews with Inman News, the Los Angeles Times, and is featured on HGTV as she gives a tour of the Trump Towers Las Vegas models. A consummate professional, Lauren works with many executives who appreciate the attentive, thorough and discreet service she provides. Her connections and knowledge of the Las Vegas market make her very successful at matching buyers with the finest units for their needs & financial goals.
Sellers will benefit from Lauren's expertise in marketing combined with her knowledge of buyer motivations & demographics. Paired with their team's broad based internet exposure, Sellers will have powerful & cutting-edge marketing tools resulting in the successful sale of their properties.
Buyers & Investors will benefit from the close working relationships The Stark Team has forged with many of the leading high rise developers/agents. The team's solid understanding of their clients' investment objectives & goals has enabled them to build a base of national & international referrals,
June is featured on the TRUMP International Las Vegas Hotel& Tower promotional DVD & was the first local realtor to place her clients into the amazing & elegant 64 story building Clients who were placed in December of 2004. June & Lauren were also the first local realtors who were fortunate enough to place their clients in SKY LAS VEGAS, the amazing residential tower located on the Las Vegas strip.
The Stark Team is continually researching the best areas & opportunities for lifestyle and appreciation in the Vegas & Henderson markets. Lake Las Vegas real estate is another area the Stark Team is focusing upon. This is one of the most beautiful masterplans in Henderson, just 17 miles away from the Las Vegas Strip.
Because of the relationships that the Stark Team has forged with the leading developers sales teams & felloe high rise condo agents & bank asset managers, they pride themselves on getting their clients the best values possible in today's ever changing eal estate market.
Travis Scholl - Las Vegas High Rise Condo Sales, Luxury Henderson Homes & Las Vegas Native Cell: 702-232-5376
Travis is the STARK TEAM's buyer's agent sales specialist & photographer extraordinaire. Travis has a tremendous success rate as a buyer's agent in selling luxury high rise condo units in the city as well as an artful eye for unique and dramatic ways to showcase our client's listings.
A Las Vegas native, Travis has witnessed the tremendous expansion of the Las Vegas Valley over the past several decades. An accomplished professional, Travis enjoys working with people who appreciate the attentive, caring, and discreet services he provides. His vast connections and knowledge of the city make him successful at matching buyers with the best properties for their needs—whether in South Strip Lofts or High Rise Condos along the Las Vegas Strip, from Lake Las Vegas Condos and Estates to Anthem Country Club where he resides with his wife Lauren and their 12 year old son.
Travis purchased his first condominium in Summerlin at the age of 22 with no money down, creatively researching a Nehemiah grant program and from there has parlayed the appreciation into his Anthem Country Club home and several other preconstruction real estate investments.
Travis chose to enter the real estate business after excelling as a gaming employee at the MGM Hotel & Casino for 12 years. For over 20 years, Travis has studied Martial Arts, Krav Maga & Contact Combat Systems, a functional form of self-defense. With passion & discipline, Travis has become one of the very few Certified CCS instructors in the United States and has trained many of the Who's Who in Las Vegas.
Travis' transition into real estate has been a natural one. The same level of intense focus, keen creative energy, business acumen, diligence and strong interaction skills that were instrumental in his successful gaming & martial arts careers now serve his clients well. Travis has become an integral component of the Stark Team and offers his clients expert knowledge and dedication and focused determination in finding each client their ideal property and/or investment.